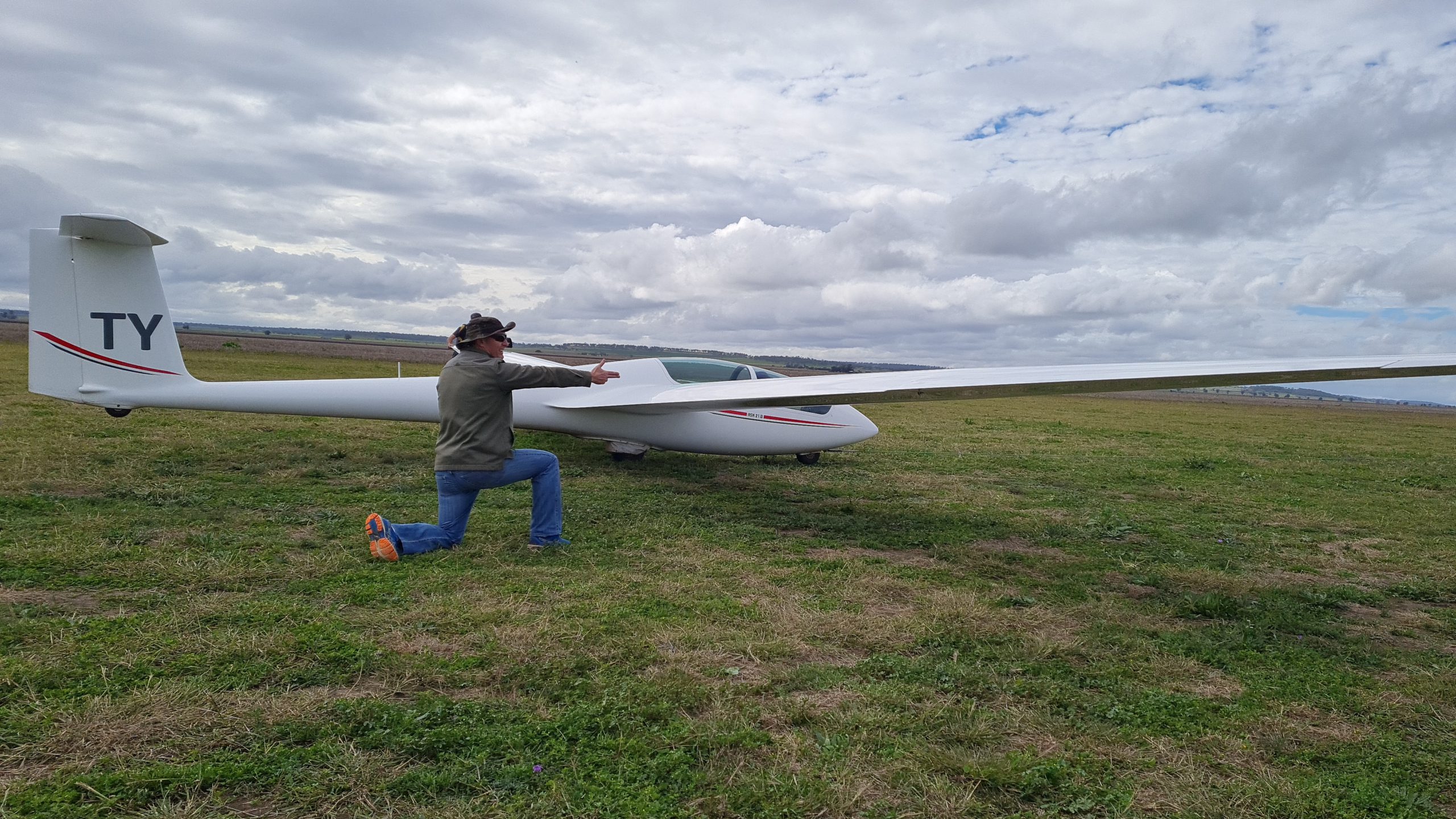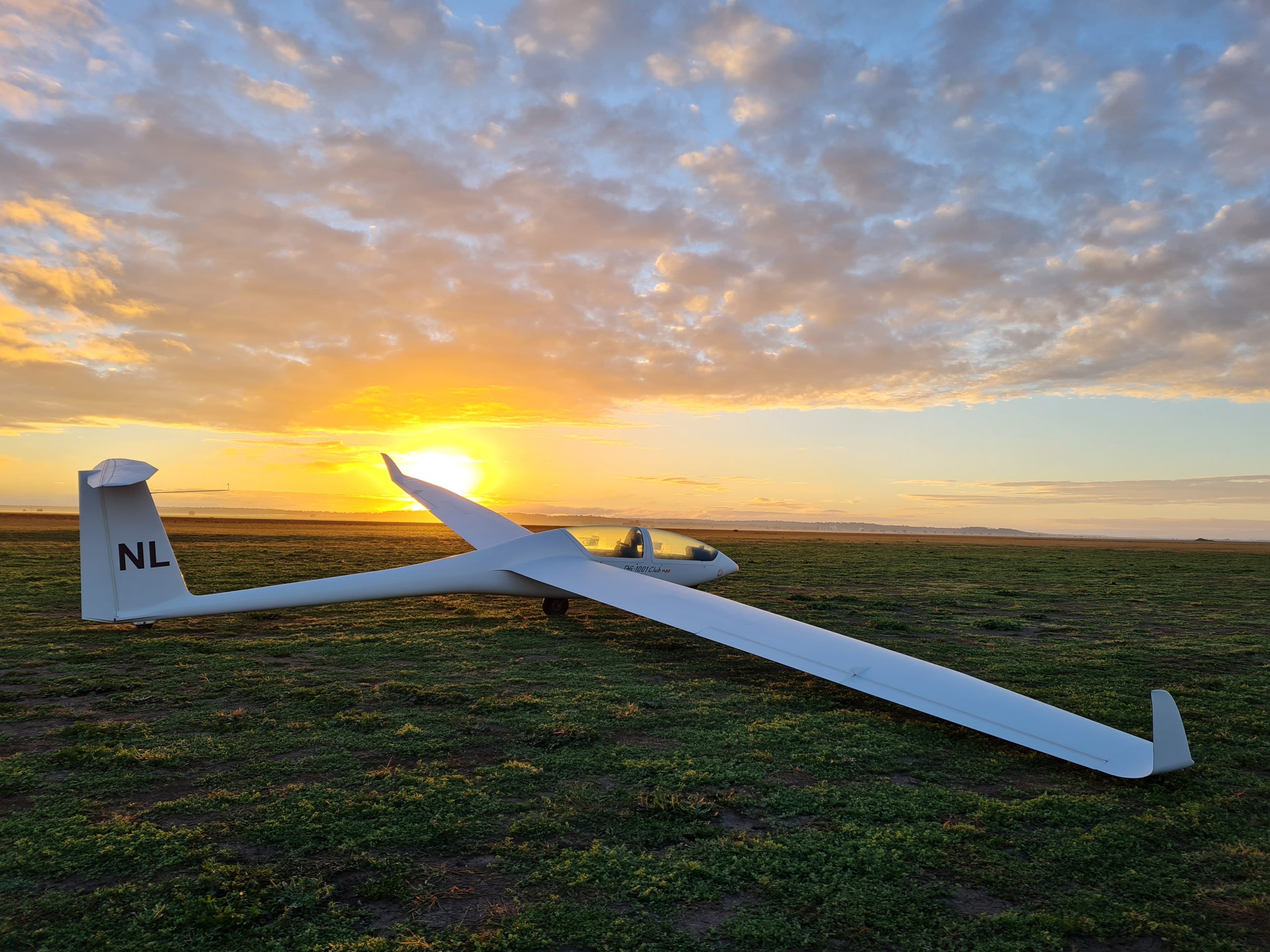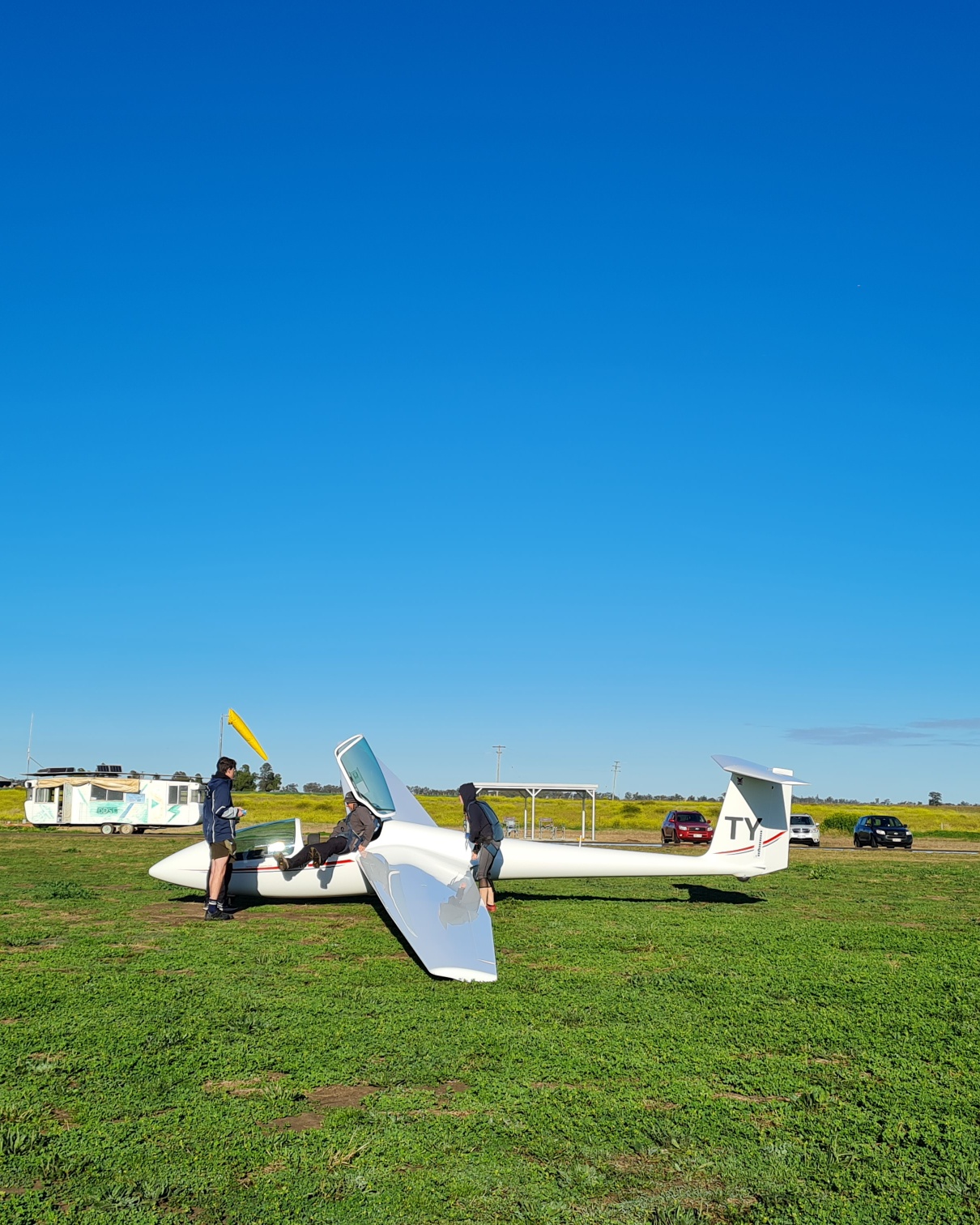 History
In 1959 Max Howland from Kingaroy, in an Australian designed Kookaburra 2 seat glider, landed at Oakey Airfield. He got a tow out and eventually outlanded in Lindsay Richards' paddock. Lindsay Richards then organised a group of people, including Dennis McCaffrey, Rex Teakle, Jim Wetherspoon, John Bell and Peter Walker and formed the Darling Downs Soaring Club in 1960.
The club operated from Oakey Airfield using winch launching. In the mid 60's the club started aero towing with Tiger Moths whilst retaining winch operations. Glider K7, QX, was purchased in late 1965. The club changed to solo aerotow in 1967 using a Tiger Moth. In June 69 the club departed Oakey Airfield with the arrival of the Army and operated off satellite paddocks for a few weeks before establishing our existing site.
The clubhouse and bunkhouse were ex-WW2 Oakey Airfield buildings purchased from the Department of Housing for a nominal cost. They were moved from Oakey to their current location. Hangar plans were drawn up in January 1970 and built in mid 70. Originally the field was owned by Dennis and Jean McCaffrey until the club purchased the land a number of years later (hence the name – McCaffrey Field).
For more on Denis McCaffrey's account of the history of the club, click here.
For Lindsay Richard's speech he gave at the 50th anniversary of the club, click here
Facilities
The club and its members own and maintain the airfield and all facilities including clubhouse, bunkhouse, hangarage, workshop, bar, kitchen, BBQ, showers, powered camp and caravan sites, laundry and television / lounge.  More details here.
Glider Flights
Glider flights are a great way to experience the sensation of soaring. Your glider flight is conducted as a Air Experience Flight by a Gliding Federation of Australia trained instructor in one of our modern sleek twin seat gliders. For details of our glider flight packages and gift certificates see the Glider Flights page.
Club and Private Fleet
We own and maintain a modern fleet of fibreglass gliders which includes 2 seater trainers and XC gliders, and single seaters.  More details
There are a number of privately owned gliders hangared at the club.
All launches are by aerotow using a Piper Pawnee 235.
Contact Information
For more information you can contact us by telephone, fax or e-mail. For details see the Contact Us page.
How to get there
From Brisbane travel to Toowoomba, then continue to travel the Warrego Highway through the towns of Oakey and Jondaryan. Continue through Jondaryan for 9km until Mason Rd. Mason Rd is sign posted and we have a sign at the T-section. Turn left down Mason Rd and follow the airfield signs. By car from Brisbane – 2h 15min, Toowoomba – 40min, Dalby – 30min.
Club Operations
We operate every weekend and Public Holidays (weather permitting), and other times mid week by arrangement. Information for visiting aviators – McCaffrey Field 27º20'57″S 151º30'50″E, runway 12 / 30, 4000ft grass, 1200′ AMSL, circuit frequency 126.7Mhz.
Learn to Soar Courses
We conduct learn to soar courses every weekend and regular midweek courses throughout the year. For details of our courses see the Learn to Glide page.
Membership
We offer a range of membership options that allows you to select the one most appropriate for your circumstances.
Costs
For details of our glider flights, glider rental, aerotow, accommodation and membership costs see the Costs page.
An Invitation
Visitors are warmly welcomed to enjoy our hospitality and to experience the sensation of soaring with a glider flight or to speak to members about the sport of soaring. Visiting pilots are also welcomed to experience the premium soaring site in Queensland – the perfect site for your next soaring vacation.